My Healthy Eating Morning Routine & How to Make Easy Almond Butter
Ingredients
2 cups raw, unpasteurized almonds (see notes for the ones I use)
2 tablespoons unrefined coconut oil (see notes for variety I love)
1 teaspoon Pink Himalayan Salt
Recipe Instructions
Preheat your oven to 225° and spread almonds on to a dry baking pan. Slightly roast the almonds for about 15 minutes. This allows for the oils to be released more readily during the processing step. Plus, I enjoy the flavor better. Keeping the oven temperature low avoids damaging any nutrients.
Let the almonds cool slightly.
Put the almonds, coconut oil and salt into the food processor. Press PLAY!
Let the mixture process until you notice the sides need scraping down. When necessary, stop the processor and scrape the sides. Then, continue processing. You will need to do this a few times and total processing time can be up to 8 or 10 minutes. Just watch your butter. The mixture will get crumbly, form a ball and eventually form a nice creamy butter.
The mixture gets warm in the processor so I suggest letting it cool before packing it into a glass jar/container. Refrigerate your almond butter and enjoy it every day!
Often, I will make a double batch in order to fill a larger jar.
Recipe Notes
Variation: Chocolate, Maple Flavored Almond Butter.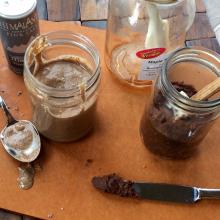 To make this version, simple follow ALL of the directions to make My Favorite Almond Butter. Then, to your food processor, add 2 tablespoons pure maple syrup and 2 heaping tablespoons RAW cocoa powder. I also added an additional teaspoon of coconut oil. Process until smooth. Taste it. If you like it a little sweeter, add a bit more maple syrup. But don't get too carried away! Remember, this IS a healthy food that we can eat on a regular basis! 
Raw, Unpasteurized Almonds (a bit pricier than those you buy in the baking aisle of the grocery store, but the nutrient value is through the roof)
Coconut Oil. I prefer unrefined.