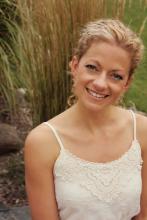 Welcome to Happily Whole! It's so nice to meet you. I'm flattered you found your way here, to my online 'home'. Overjoyed, actually! Pull up a chair, please, relax and make yourself at home. For me, this is 'it'! It's what I want to share with you!  In this place, this comfy cyber space, I'll share my daily, sometimes flawed, often heartfelt and occasionally downright funny attempts to live well from the inside out. It's me pure and natural, living my own self-defined 'whole lifestyle' as I seek 'happy' in the simple moments of each day.
From the seat of my soul to the nourishment on my plate I have lots of living well to do with you, so please join me for the journey!
There's more…much more I'd like to tell….maybe more than you care to know. But first, in case you'd like to hear more about the author (that's mmmmeeeee!) here's some of my story inspiring this: 
Upon meeting me, you'll soon find I might be a little like you! Busy, overloaded with lists to do and desires undone, a bit restless from time to time but best of all blessed with an amazing opportunity to raise two girls! Mine are still small, ages four and six. You'll sense their influence here since I spend lots of time planning my living well around and with them.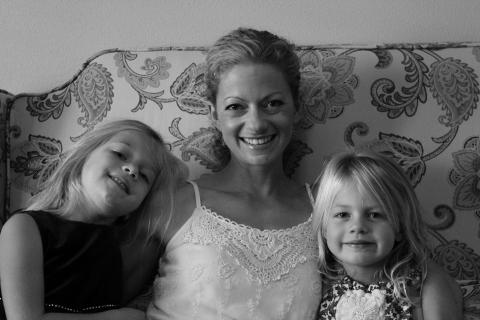 Another side of me is addmittedly a 'real food' fanatic, a fitness devotee and a lover of ALL THINGS wellness, actually! Ah yes, I hope you let me share those passions with you! Eating well can be indulgent and nourishing all at once...promise! And fitness, well, I believe it's freeing. It's refreshing. So, I'll do my best to keep you busy with lots of nourishing tips for your mind, body and soul. 
But there's this other part, a humbled and heart-stricken piece of me, prompting me to share my passion for living 'happily whole' here with you. It's a part of me drawn more than driven to write words of wellness. It quietly defines me in the shadows of my daily pursuits. That piece? Widowhood. It surprised even me that adding 'widow' to my repertoire at age 32 would inspire me to use my words, my life and my faith as the foundation for all of this; this home for my heart, my heart's passion for living well from the inside out.
You see, in my attempts to live well through loss I found love…love for sharing and inspiring; love for living well even more deeply than I had before; a different level of love (and respect) for motherhood with which I had not yet connected; an underlying, dependent yet liberating love for the Lord that has led me to this place in my life. Part of it is gratefulness alongside grieving. It's the getting and then giving away lessons from that which I've lost..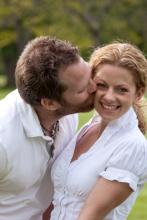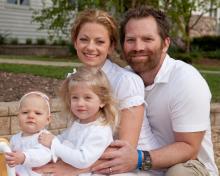 Cancer is what carved out my heart and cut my family apart. In all of life's 'what ifs', I never worried about THAT for us, at least not yet. Young and content in parenting two tiny girls together with my best friend, the most romantic man I'd met…then married. My world started spinning. 'Pancreatic cancer', the diagnosing doctor whispered with his head down as I held our youngest daughter, 5 months old. In utter rejection of the reality I replied, 'Are you sure? Don't you see I have two small children? It can't be. He can't have THAT.' 
My logic didn't stop life from jarring me with the painfully unfamiliar, exhausting path we were headed down. My sole intent: to save his life; to keep Kevin alive. I spoke to surgeons, pharmacists, oncologists and everyone in between. I put my role as owner of a women's wellness company on hold as I researched and evolved into a full time care taker of cancer patient and kids. Juicing every morning, cheering him on during chemo sessions, holding his hand, tieing his boots, begging him to try eating a little more…waiting with him each time we heard the bleak news after a scan told us his cancer was spreading. There was a hint of hope from time to time, but alas, I watched him wither.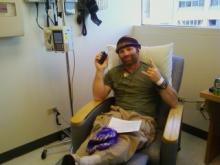 On March 11, 2011 I met devastation as Kevin met his Maker. My heart still bound to his, he left for heaven. His mission: Complete. Sometime I'll tell the truely beautiful stories of his last days because those events set me straight onto a path of flourishing faith and fervent attempts to live well through this loss I've been given. Living well alongside loss. Learning to love life…differently, better.
So here I am. Fuller, more whole. Incredibly flawed, of course! But, filled with faith that my life, OUR LIVES, possess purpose beyond what we might imagine. My mission: starting fresh in faith each day.
Yes, I've been GIVEN loss. It's not what I would have ever chosen but somehow it's a gift. Grief is a strange, inexplicable gift for me. If for just one minute I could have him back to hold, I would tell him how much I treasure him, how his life still teaches me every day and that my heart swells with the sweetest earthly love I have known all because of him ……then I would surrender again to the loss because it has made me more of who I am supposed to be.
That's what it's all about, isn't it? Living, learning, then changing… for the better. AND THEN, giving away what you've learned....
My voice is small and unseasoned amongst so many other talented teachers. My personal tragedy pales in comparison to the struggles of some. But, with a tug at my heart to write and a passion to pass along what I so humbly can, I continue on. That's why I am honored and, well, tickled that you might lend me your ear…..and eyes!
I don't hope for anything more than what God's given me in this moment. I simply want my choices and His hand to move me in the direction, but never really reaching a destination, of 'happily whole'. I hope to help you think differently, to reach deeper and live well with more meaning.
Let's get started together….let's embark on the journey, let's head in the direction of Happily Whole from real food to inspiring fitness to redeeming faith!
~~~~~~~~~~~~~~~~~~~~~~~~~~~~~~~~~~~~~~~~~~~~~~~~~~~~~~~~~~~~~~~~~
In case you wondered what qualifies me, I first believe it's God qualifying us to live the life He's laid before us. But here's a list of my more earthly educational credentials:
Bachelors of Science in Social Work and Child Development
Masters of Science in Health Psychology, secondary emphasis in Exercise Physiology
Certifications: ACE Personal Training
ACSM Licensed Wellness Coach
Owner, MissFIT Complete, Inc. (local in-home fitness/wellness company)
Blog Contributer and Writer for: A Widow's Might, aNew Season and MissFIT Complete, Inc. 
See Full Disclaimer: While I am credentialed with ample personal and professional experience in the wellness industry and plenty of education in eating well and exercise, I am not a medical doctor nor am I working with you one-on-one. None of the suggestions and advice found on this page should replace the guidance you receive from your own doctor. The views I express are from my experience and perspectives with the goal to prepare, encourage and inspire you to live a healthy, well-balanced lifestyle. Happily Whole cannot be held responsible for any resulting health condition or injury you incur as a result of information shared on this page.